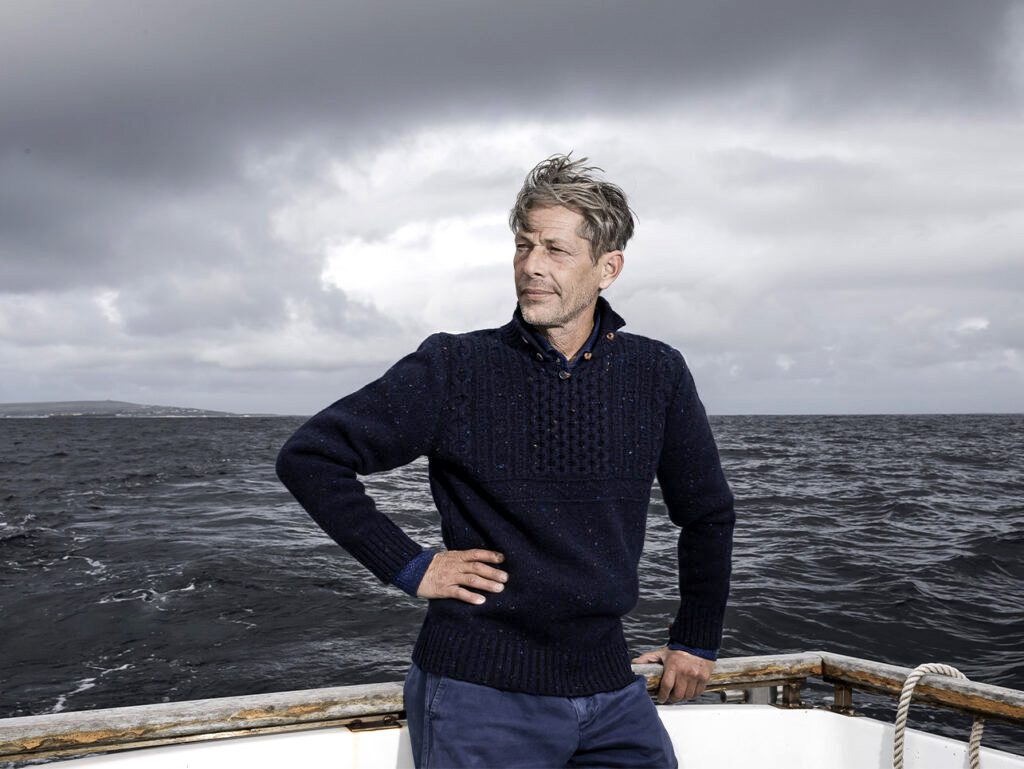 In advance of our Autumn/Winter 2021 collection release, we celebrated a garment which has been a creative touchstone for us for two decades. For generations, the wives of Island fishermen knitted Aran workwear for their husbands. Custom dictated such garments would feature only simple decoration. However, a century ago, Máire Cáit, a skilled knitter with a wonderful imagination, wanted her fisherman husband Máirtín Beag's workwear to look as special as his Sunday Best, and began to create her own distinctive design flourishes. He became known for his fine knitted and hand-woven garments, all from the hand of his wife, Máire Cáit. Inspired by her imagination and skill, our Limited Edition Máirtín Beag Galánta is an elegant and understated cashmere blend with a gorgeous soft handle.
Two decades ago, we uncovered treasure in a barn: one of her original handknits, proudly displaying its decades of hard work at sea. Instead of the usual shoulder buttoning, Máire Cáit opened into an intricate pattern she created in the upper body, closing it with specially placed loops. She designed her own distinctive cable for either side of the central ladders and ochtíní, completing the yoke with a Guernsey band rarely found among Aran knitters.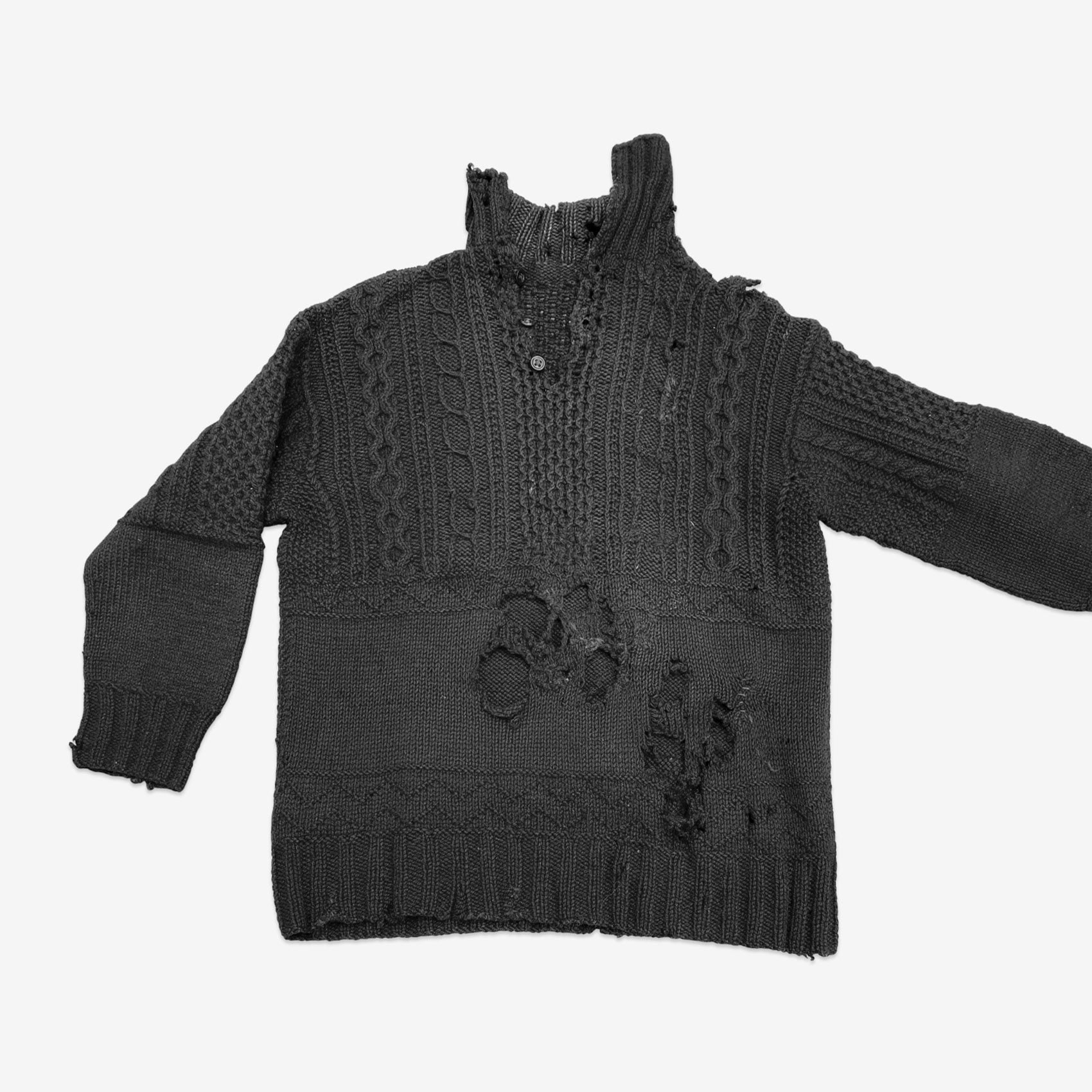 Galánta is used to describe an understated yet confident sense of style, similar to the Italian sprezzatura. Available from July 23rd 2021 in an edition of only sixty, our exclusive cashmere blend Máirtín Beag Galánta is a garment to treasure forever. In navy, with front neck and cuff loops in contrasting bracken, this sweater has a super soft handle that Máirtín Beag would have envied. It features intricate cables with a ribbed cuff and welt, and the high neck finished with three monotone horn buttons with loops creates a stylish yet simple closure.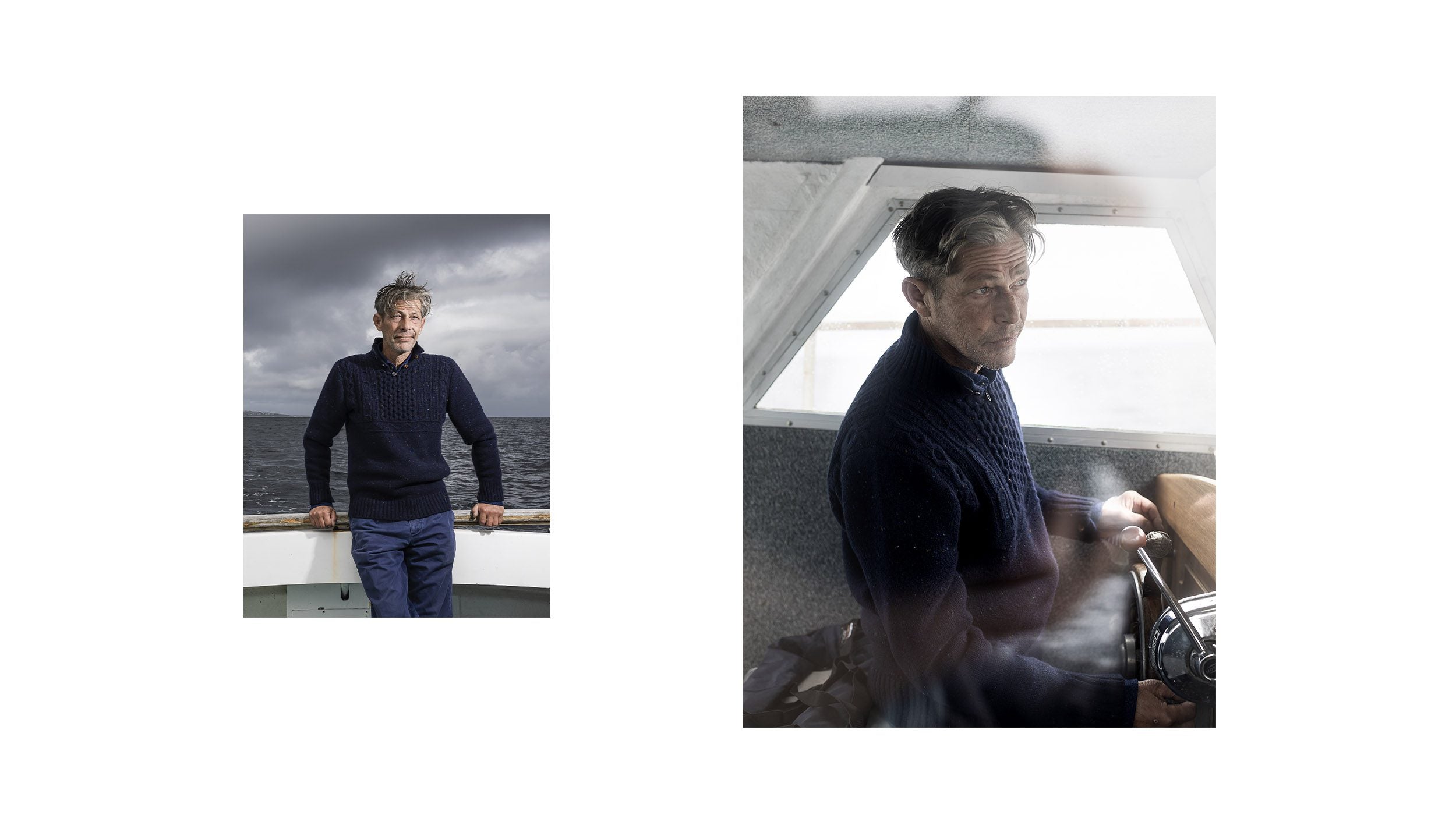 Made and hand-finished in our Aran Islands studio, our Limited Edition Máirtín Beag Galánta launched on July 23rd 2021. As we look out over the sea where Máirtín Beag once fished, we hope Máire Cáit would be proud.
body.single article div.pb-block.pb-text em {color: #231f20 !important;} body.single article div.pb-block.pb-text sup {line-height:1;}