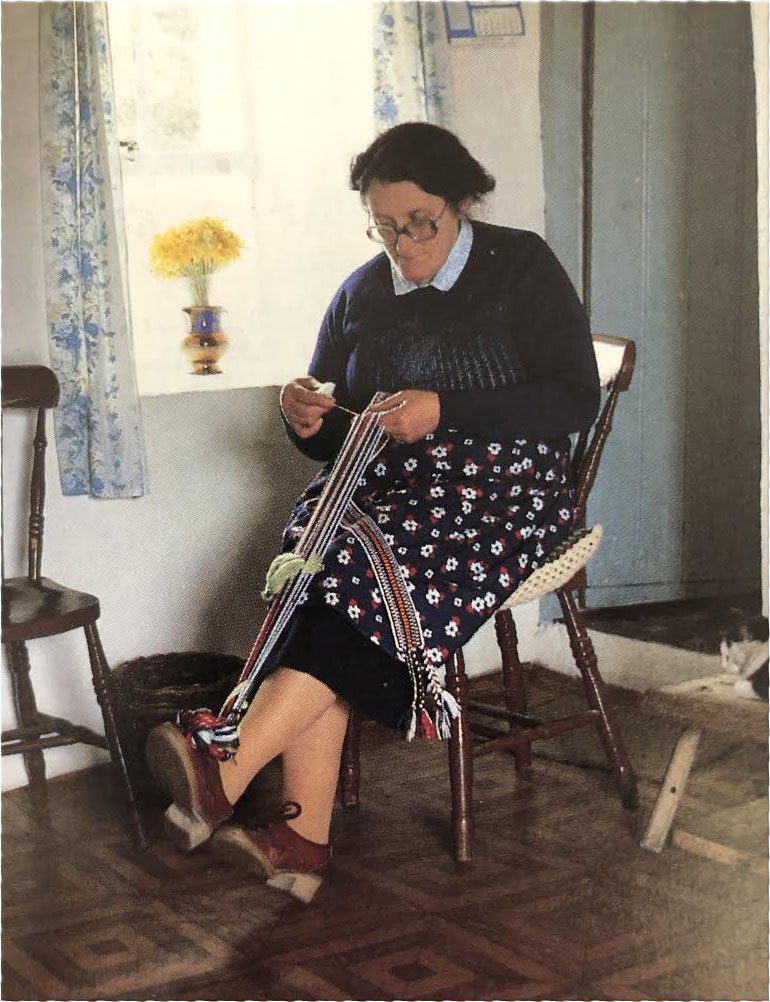 Duine de mhór-chniotálaithe na hÉireann ar lár, 4 Eanáir 2020
Beannacht Dé lena h-anam dílis!
Ba chomhairleoir agus treoraí í don chomhlact seo. Thug sí tuairimí dúinn agus ba mhór againn a cuid tacaíochta i gcónaí. Deineann muid comhbhrón lena clann iníne; Máirín, Anna agus Nóirín agus lena gclann siúd.
Aireoidh muid uainn go mór í.
Pictiúr le caoin chead ó David Shaw-Smith óna leabhar Irish Traditional Crafts. Foilsíodh an pictiúir seo de Mháirín ag fíochán crios le láimh ar stampa Éireannach beagnach scór go leith bliain ó shoin.
Máirín Thomáis Uí Dhomhnaill

Knitter and Craftsperson
One of the great knitters of Ireland has passed away January 4th, 2020
May she rest in peace!
She was an inspiration and a leader for us. She gave us ideas and samples from her great archive of knitting and she gave us great support always. Our condolences to her three daughters; Máirín, Anna and Nóirín and their families.
She will be sadly missed in Inis Meáin
Picture by kind permission of David Shaw-Smith from his book Irish Traditional Crafts. This picture of Máirín weaving a crios with her hands was published on an Irish postage stamp about thirty years ago.
Back